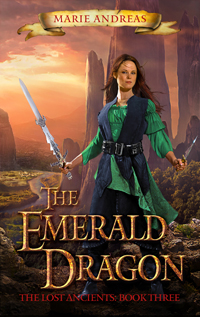 THE EMERALD DRAGON- Book three in The Lost Ancients Series- Coming in early 2016
After surviving two previous encounters with ancient relics of mayhem and destruction plus saving her friends and her whole damn city, archaeologist Taryn St. Giles thinks she deserves a beer and a break.

Then her world starts to tear itself apart, literally.

Earthquakes are unheard of in quiet, sleepy Beccia, but sadly, doomsdays are not, and Taryn is getting uncomfortably familiar with both when she discovers the existence of more pieces of the dangerous relics. With old friends and even older enemies -- and friends who might be enemies after all -- Taryn races against bloodthirsty relic hunters and nightmarish monsters to find a legendary creature carved from a single, giant gemstone.

The upheaval rattles her team, tears apart her city, and unleashes a creature that should have stayed dead and buried. And that wants Taryn's blood. Now she'll unearth her biggest adventure yet.
BUY: Amazon